The Next Level of Wound Care for Improved Patient Healing Is Here: NPWT + Clinical and Patient Care
Wound care is complex. No one solution fits all patients or serves the needs of clinicians and facilities facing the delivery, cost and healing challenges of wound care. With our Wound Care Program, we provide the strength of specialized and state-of-the-art negative pressure wound therapy (NPWT) vacuum pumps, wound dressings and canisters to help treat acute and chronic wounds. 
InfuSystem's Advanced Wound Care is based on healing the patient while ensuring safe, reliable and effective wound care in the hospital, clinic and home.
Our Wound Care Program is designed with the clinician and patient in mind. We work closely with health care teams and wound care specialists to address wound care's unique challenges to support faster wound healing. We combine the Cork Medical Nisus® NPWT System's powerful and portable wound vac pump offering patient mobility and comfort with InfuSystem's NPWT patient 24/7 hotline to help you deliver advanced wound care solutions to your patients.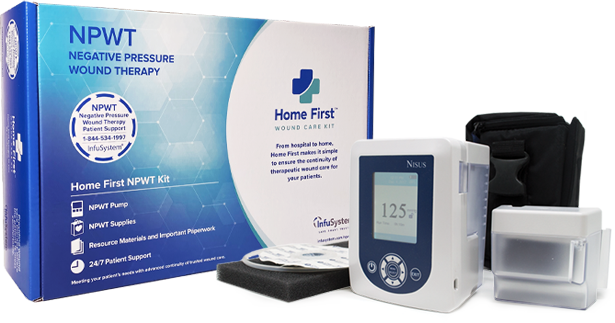 Home First® Wound Care Kit
The Home First Wound Care Kit provides the NPWT pump and associated supplies needed for at-home therapy after discharge. Our dedicated team offers 365-day support to your patients, and we even ship the monthly balance of supplies directly to your patient's home or other specified location.
Cork Medical Nisus Negative Pressure Wound Therapy Pump
Battery Charger
Nisus NPWT Canisters
NPWT Wound Dressing Kit
Pump Pouch
Pump Quick Reference Guide
Patient Resource Guide
Patient Delivery Receipt
Clinic Paperwork Packet
Wound Care Quick Links
---
Contact Us
Learn More About Our Wound Care Offerings
InfuSystem does not provide pumps directly to patients. If you wish to access an InfuSystem pump, please have your physician contact us at 1-800-962-9656.
Trusted NPWT System 
The Cork Medical Nisus Negative Pressure Wound Therapy System is a powerful yet portable device that allows the patient to achieve results while maintaining mobility. The Nisus NPWT System is designed to provide gentle powered suction to treat wounds and promote wound healing by aiding in removing excess exudates, infectious material and tissue debris.
The Nisus NPWT System is composed of three essential components that actively work together to promote wound healing: the Nisus NPWT Pump, the Nisus NPWT Canisters and the NPWT Wound Dressing Kit.
FDA approved for use in hospitals, long-term care facilities and home-care settings

Lightweight and portable, with up to 24 hours of battery life (can extend to 48 hours with sleep mode)

User-friendly interactive interface with easy-to-read LCD screen
Managed Care Payer Contracts
Nationwide, InfuSystem is a participating provider for nearly 1,300 insurance payers and third-party claims administrators accessing our "in‑network" services through over 800 payer network contracts. This extensive nationwide network participation represents more than 96% of all third-party payer insurance coverage. These contracts cover most national, regional and local Commercial, Medicare Advantage and Managed Medicaid members.
Straightforward and Cost-Efficient Approach to Billing
InfuSystem provides simplified billing procedures.
Calculate your Smart Lease Savings!
InfuSystem's Smart Lease program provides the advantage of leasing NPWT devices to steadily meet demand and control costs while providing reliable and effective wound healing.

Reduce your NPWT costs
Improve device availability
Simplify inpatient logistics
Reduce administrative burden
Decrease exposure to significant device repairs
Focused Patient Care and Pump Support
InfuSystem provides excellent support for wound therapy patients during their transition home. We are here to assist patients with reviewing insurance benefits, monitoring progress and fulfilling additional supply orders.

24/7 Nursing Hotline
Our team of registered nurses (RNs) are on call 24/7 to assist with all wound vac pump-related questions.
24/7 pump-related patient support
Wound Care Therapy Resources
NPWT System Overview – Cork Medical Nisus®
NPWT Canisters – Cork Medical Nisus®
NPWT Wound Dressing Kit – Cork Medical Nisus®
Clinician Quick Reference Guide – Cork Medical Nisus®
Clinician User Manual – Cork Medical Nisus®
Patient Quick Reference Guide – Cork Medical Nisus®