Negative Pressure
Wound Therapy (NPWT)

Patient Resources
Better Wound Care Begins With InfuSystem's Wound Care Management Program
Wound care focuses on injury or damage to the skin and its underlying structures and involves every stage of wound management. InfuSystem provides comprehensive wound care to stimulate healing.
We provide the Cork Medical Nisus® Negative Pressure Wound Therapy System's powerful and portable wound vac pump offering patient mobility and comfort with our NPWT 24/7 patient hotline to support patients through every step of their wound healing journeys.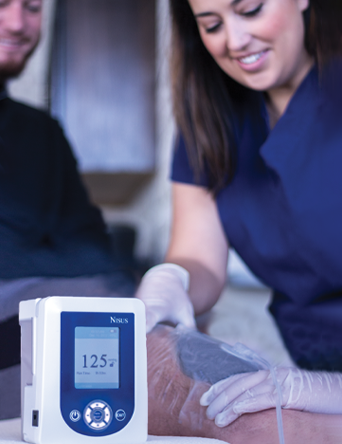 What is Negative Pressure
Wound Therapy (NPWT)?
Negative pressure wound therapy is a treatment to help wounds heal. It's also known as vacuum-assisted wound closure. NPWT is one of the optimal treatments for treating chronic and acute wounds. It uses a closed vacuum system, drawing out fluid from the wound while increasing blood flow to the affected areas. NPWT systems for complex and large wounds include a foam dressing, a lightweight and portable vacuum pump producing negative pressure and canister(s) with a carrying bag.
NPWT provides gentle powered suction to treat and promote wound healing by aiding in removing excess exudates, infectious material and tissue debris. Our NPWT devices are powerful yet portable to promote healing while allowing patients to maintain mobility.
Negative Pressure Helps Wounds Heal By:
Encouraging the growth of new tissue
Providing a moist wound healing setting
Bringing wound edges together
Removing extra fluid and infectious materials into a special container on the machine
Important Information About Your NPWT Device
Always keep the Nisus turned on unless there is bleeding from the wound or instructed by your health care professional.

Do not allow the device to get wet. Disconnect the tubing from the canister if you take a bath or shower.

Keep the device plugged into a power outlet whenever possible to keep the battery fully charged. Always take the battery charger with you when you leave home.

Keep the device upright to avoid a false Canister Full alert.

Ensure all components of the wound dressing kit tubing do not cause a trip hazard.

When possible, position the pump device and drainage at or below the level of the wound.
Fall Prevention Tips
Check your home for common tripping or fall hazards, such as slippery floors, rugs, furniture in the way, poor lighting and trailing electric cords.
Don't have loose or trailing electric cords across the floor. Ensure that the electric cord is not a tripping hazard.

Always be aware when walking with your wound pump. Clear the area by removing obstacles.

Be aware of objects that could catch the tubing not covered by the dressing.

Use caution while getting in or out of bed, and when possible, ask for assistance.

Wear rubber-soled, low-heeled shoes.
The NPWT Nursing Hotline Is Here for You 24/7 for Wound Pump Assistance. Call 1-844-534-1997.  
While your physician/wound care clinician is your primary source for information about your wound care treatment, there may be times during your treatment when you need assistance with your NPWT wound care device. Our team of compassionate and knowledgeable registered nurses (RNs) are available to assist you during your recovery every step of the way.
We provide around-the-clock support and immediate access to our 24/7 nursing hotline for answers to the following:
Questions about your wound pump
Assistance with pump alarms
How Do I Return My NPWT Pump?
At the end of your wound therapy, your InfuSystem NPWT Coordinator will contact you by phone to provide instructions on how to return your NPWT pump and battery charger to InfuSystem. Do not return the pump to the clinic or hospital.
Upon completion of your treatment, InfuSystem will send a prepaid return shipping box to your home so you can return the pump and battery charger to InfuSystem directly. Simply follow the pump return instructions that come with the box. Contact us to schedule a FedEx® pickup from your home or drop it off at your local FedEx location. Do not remove the prepaid shipping label already affixed to the box.
Connect With Us
Patients may also make payments online.