Pain Management

Patient Resources
About Your InfuBLOCK® Pain Pump
We're here for you every step of the way.
InfuBLOCK is a postoperative, non-narcotic pain relief system that delivers local anesthetic to or near the surgical site. This is a pain minimizing therapy that delivers an anesthetic (numbing) medicine to a nerve. Your InfuBLOCK pain pump will continuously deliver a local anesthetic medication to block the pain in the area of your procedure.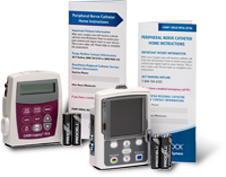 While using the InfuBLOCK pump, if you experience any of the following symptoms immediately turn off or clamp pump and call your doctor. If you have a medical emergency, call 911.
Skin rash or hives
Mouth, lips, or tongue numbness or tingling
Metallic taste in mouth
Ringing in ears
Slurred speech
Blurred vision
Important Patient Information
Do not drive or operate machinery while the catheter is in place

Be careful with your numb limb. You may not perceive situations that may injure you

Avoid hot baths, holding hot liquids and similar activities
Keep your sling or splint on at all times, except during physical therapy

Do not get the catheter, pump or bandages wet

If you have had a nerve block for surgery on your leg or foot, do not stand or walk using the affected leg until your strength comes back
The InfuSystem Nursing Hotline is Here for You 24/7.

Call 1-844-724-6123 for Assistance. 
While your physician is your primary source for information about your treatment, there may be times during your treatment that you need assistance with your infusion pump. Our team of compassionate and knowledgeable Registered Nurses (RN) is here to assist every step of the way.
Answers to questions about your infusion pump

Assistance with pump alarms

Excessive leakage noted from pump
Tubing disconnect

Dislodged catheter

Inadequate pain control
InfuBLOCK CPNB
Educational Video
CADD®-Solis HPCA
Outpatient Video
CADD®-Solis HPCA 
Outpatient Video - Delayed Start 
InfuBLOCK CPNB
Educational Video
CADD®-Solis HPCA
Outpatient Video
CADD®-Solis HPCA 
Outpatient Video - Delayed Start 
We've Made it Easy to Return Your Pain Management Pump. Simple Steps and No Cost to You!
Once your pain management therapy is complete, please return the pump and carrying bag to InfuSystem in the pre-paid shipping box provided to you at discharge. Carefully follow the instructions included in the box which are also found at the link below. You can place the shipping box in your mailbox, hand it to your mail carrier or drop it off at your local post office. For your convenience, postage is prepaid, and a shipping label is already affixed to the box.
Connect With Us
For 24/7 pump support call: 1-844-724-6123.
For help with billing, patient financial assistance or to make a payment call: 1-833-570-4737.
Patients may also make payments online.