Embark on a Smart Career with a Smart Company
A career at InfuSystem is a smart opportunity to grow as a professional while positively impacting lives — every single day. At InfuSystem, our guiding principle is patients first. We are dedicated to doing the right thing: for the patients whose lives we touch, for our customers and our employees.
We are leading the way in a fast-growing market and offer a variety of employment opportunities across multiple job functions, including:

InfuSystem Career Spotlight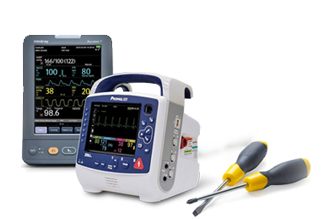 Biomedical Technician
We have multiple job openings for Traveling and Regional Biomedical Technical Service Specialists.
The Traveling Technical Service Specialists are responsible for providing preventative maintenance and repair services, including performing physical inventory, installing tracking devices and beacons, testing, evaluating, and performing cost-effective medical equipment maintenance at the customer's facility. They will accurately document service actions in a digital work order and demonstrate our "Patients First" culture by taking ownership, doing the right thing, and problem-solving. 
In this role, you will be required to travel to customer sites to test and evaluate medical equipment and will possess the customer service skills to help facilities locate devices and perform preventative maintenance on the equipment. You will have the opportunity to travel anywhere in the U.S. for two- to six-week assignments that may include weekends. 
InfuSystem provides on-the-job training. Medical device experience and electronics familiarity are preferred but not required. We will provide training on maintenance and repairs of various medical equipment. 
Watch Video to Learn About InfuSystem
From providing durable medical equipment and biomedical services to developing integrated therapies, our team members are compassionate problem solvers, innovators and explorers of new health care solutions.     
Dream jobs are universal. Career opportunities should be too.
Our culture is built on a foundation of diversity and inclusion, respect and openness where discussion and feedback are encouraged and having fun is, too! Are you ready to join a growing organization and an exceptional team?
Click HERE to view the InfuSystem Privacy Policy for Employees and Job Applicants.
To view the InfuSystem Notice to Applicants, click HERE.
Important: Please be aware of fraudulent job offers!
There has recently been an increase in instances of job seekers encountering fraudulent job opportunities appearing to have come from InfuSystem. In some cases, job seekers have received correspondence with individuals posing as InfuSystem employees and have received false information for positions with the company. Job seekers have been asked to provide personal information to fraudulent individuals. These individuals or entities are in no way connected with and do not represent or act on behalf of InfuSystem. InfuSystem takes no responsibility and assumes no liability for any such unauthorized or fraudulent actions. 
We take all occurrences of fraud seriously and encourage all job seekers to exercise caution. If you feel you have been a victim of fraud, please report it to your local law enforcement agency.
When applying for positions at InfuSystem, please keep in mind:
All InfuSystem job opportunities are listed on the InfuSystem website https://infusystem.com/careers.
Official interviews or job offers will not be conducted via messages on third-party sites (i.e., Facebook or LinkedIn) and will not require the download of any third-party software/apps.
All interview opportunities will be scheduled directly by InfuSystem personnel.
All official job offers will be sent directly from InfuSystem personnel.
Only designated InfuSystem personnel can extend any job offer on behalf of the company.
Benefits and Perks for Your Health, Wellness and Happiness
We offer a comprehensive and competitive benefits portfolio to support the personal health and wellness of our team.
Wellness and Happiness
Flexible work arrangements
Financial wellness offerings
Employee assistance program
Casual dress code
State-of-the-art fitness facilities and discounted gym memberships
On-site food markets in most locations
Company gear
Your Time Away
Generous paid time off, plus 8 company paid holidays
Floating holidays (3)
Birthday holiday
Benefits
Two medical plan options
Company-paid dental and vision
Company contribution to Health Savings Account (HSA)
Company-paid life insurance
Short- and long-term disability insurance
Traditional and Roth 401(k) with Company match
Flexible spending accounts to help with eligible health and dependent care expenses
Employee stock purchase plan
Paid parental leave