Pain Management
InfuBLOCK®, the Complete Continuous Peripheral Nerve Block Solution for Post-Op Pain Control
InfuBLOCK is a full-service, pain management program for the delivery of Continuous Peripheral Nerve Blocks (CPNB), reducing the reliance on opioid pain medication for post-surgical recovery. InfuBLOCK delivers safe and accurate pain pumps for nerve blocks, high levels of pain control and patient satisfaction at significant cost savings to facilities. 
For health care providers, the InfuBLOCK Dashboard affords immediate access to patient progress with daily surveys to monitor post-operative recovery. The InfuBLOCK Dashboard enables providers to share valuable data to effectively treat post-operative pain and reduce opioid use and readmissions. And, our Clinical Support Team provides 24/7 pump support for post-operative patients during their transition home.
InfuBLOCK Provides 360º Pain Management Therapy
Pain Management Devices
Certified Infusion Devices
Accurate Pain Management Pump
Optional Bolus Feature
Audible Safety Alarms
InfuBLOCK Dashboard
Real-Time Tracking of Progress During Recovery
Intuitive Interface and Secure Portal
Insightful Data for Patient Well-Being
Dedicated Clinical Support, Patient Care and Follow-Up
Daily Patient SMS Initiated Pain Surveys
24/7 Clinical Support Team
Patient Pump-Related Resources and Support
InfuBlock
Patient
Satisfaction
Score
9.6 out of 10
InfuBLOCK Quick Links
---
Contact Us
Learn More About Our Pain Management Offerings
InfuSystem does not provide pumps directly to patients. If you wish to access an InfuSystem pump, please have your physician contact us at 1‑800‑962‑9656.
Data to Power Your Pain
Management Patient Therapy
Helping patients get back to their daily life is one of the key aspects of using real-time pain management tracking for surgical recovery.
The InfuBLOCK Dashboard helps measure patient results to adjust treatment protocols, document reduction in opioids and collect key analytics around a successful pain management program, all accessible online, 24/7.
The InfuBLOCK Dashboard provides valuable insights to effectively treat
post-operative pain in a convenient, secure dashboard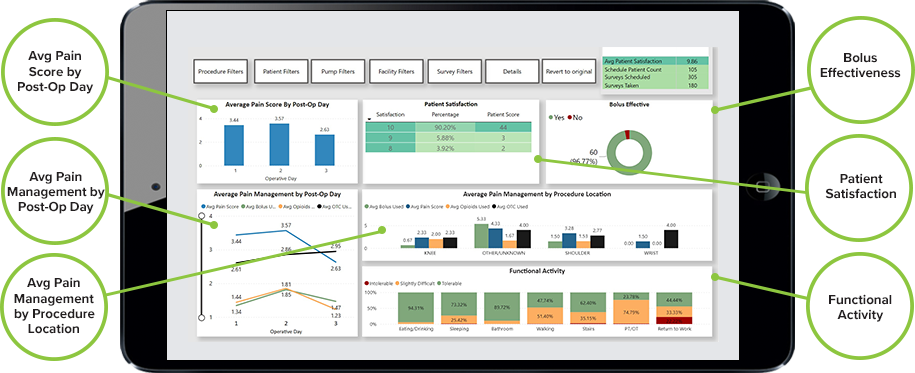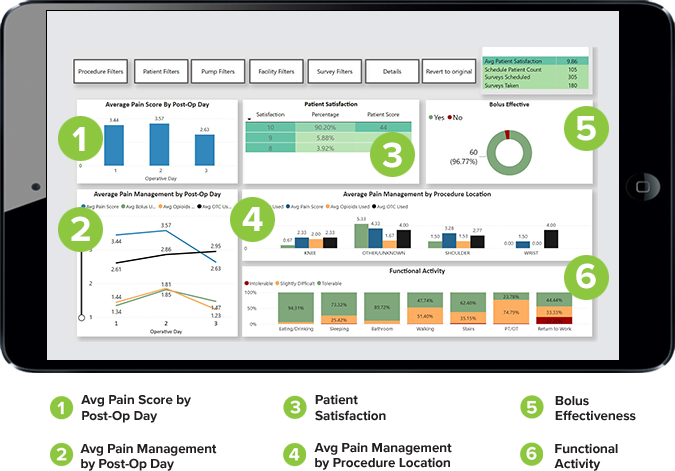 Continuous
Follow-Up
and Real-Time
Data
How It Works
Our Patient Care Coordinators connect with patients daily via SMS-initiated surveys to gather pain data points and satisfaction scores through the initial post-operative period.
InfuBLOCK Pain Management Kit
The InfuBLOCK Pain Management Kit provides the pain pump, associated supplies and pump return box for convenient pump return to discharge a patient to their home.
InfuBLOCK offers 50% savings over balloon-type pumps and allows for billing as a DME provider on most insurance plans.
CADD-Legacy® PCA Pump or CADD®-Solis HPCA (Pre-Programmed Pump)

Patient Pump Instruction Guide

Pump Return Box with Prepaid USPS Return Label

Pump Return Shipping Instructions
Superior Delivery of Regional Anesthesia with Significant Cost&nbspSavings
InfuBLOCK is a full-service program for the delivery of Continuous Peripheral Nerve Blocks (CPNB) enabling healthcare providers to administer fewer opioids while reducing costs and improving patient satisfaction scores.
Now Offering SOLO-DEX Proprietary, Continuous Nerve Block Catheters for Safe and Effective Pain Management.
Now Offering the Endura-KT™ Injectable for Postsurgical Non-Opioid Pain Management and Recovery.
What Our Patients Are Saying
"As the director of a substance abuse center in Kansas City and as someone in long term recovery I know how narcotic pain medication can affect one's life. I have had multiple knee surgeries in the past and years ago relapsed after one due to the high doses of pain medication. Using InfuBLOCK has been the easiest recovery and drastically different compared to my other surgeries because of your pump. I will be recommending InfuBLOCK to everyone, including my clients having surgery. I absolutely loved it!"

Darla B.

"I had two total knee replacements over six months. Each time my surgeon provided an InfuSystem InfuBLOCK pain pump to help with pain management during the four days following the surgery. Around the time I had my knee surgeries, I knew of four other people who also had knee replacement surgery. Two did not have the InfuSystem pump. They experienced significantly more pain than I did! Knowing what I know now, I would not have knee surgery with a surgeon who does not use the InfuSystem pain pump! Thank you, InfuSystem, for helping me manage my pain during the critical first four days of recovery!"

Curt G.

"The multi-day nerve block I had after my total Achilles rupture surgery was truly a miracle. It is, without a doubt, one of the greatest pieces of technology I have ever had the pleasure to use."

Britton T.
CDC Guideline Update for Prescribing Opioids 
CDC updated it's guidelines intended to ensure that clinicians and patients consider safer and more effective treatment, improve patient outcomes such as reduced pain and improved function, and reduce the number of persons who develop opioid use disorder, overdose, or experience other adverse events related to these drugs. For more information visit www.cdc.gov.
24/7 Nursing Hotline:
1-844-724-6123
Our team of Registered Nurses (RNs) are on call 24/7 to assist with all pump-related questions.
24/7 Pump-Related Patient Support
Clinical Staff Support
Call Triage Assistance – Routing Appropriate Medical-Related Questions to Anesthesia Provider